Winter Window Booking Event On Now!
By Premier Siding and Window Sales - Marketing
0 Comments
The Very Best Time of the Year to Buy Windows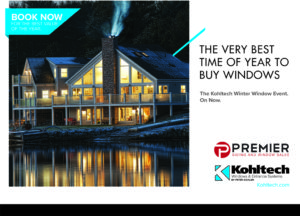 Book by February 25 for the best value of the year and arrange delivery anytime up to spring 2018!
Whether you're planning a renovation or a new house build, Kohltech Windows & Entrance Systems are perfect against the Canadian climate. Get inspired by the most outstanding value on all energy-efficient Kohltech windows, entrance systems and patio doors.
If you have plans for a new house, we'd love to see them and help you choose the perfect windows for your new home! Stop by our showroom on Lundrigan Drive or call ahead to make an appointment.
If you're renovating, we'll come to your home and gather all of the information we need to give you a free quote. Click here to arrange an appointment.
---