The Benefits of New Windows
Are you tired of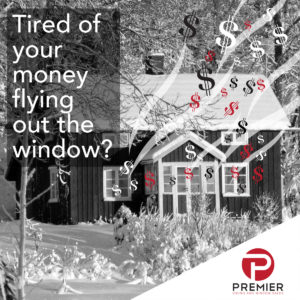 your money flying out the window? New windows are a sound investment in your home. Here are our top 5 reasons to invest in new windows:
Energy efficient windows will save you money by reducing your heating bill. Malfunctioning, outdated windows and doors are major contributors to your home's energy loss – up to 20% by some estimates. Saving energy also reduces your environmental impact. What's good for you is good for the planet.
Comfort in all seasons. Energy efficient windows will keep the heat in during the harsh Newfoundland winters so you'll be cozy and warm on even the worst winter day. In summer, they keep the heat outside so you'll be cool and comfortable on even the hottest days.
You'll increase your property value. New windows and doors will add curb appeal but that's not all. A recent article in The Toronto Star reported the results of a survey conducted by the Canadian Homebuilders Association. The survey showed that 91% of homebuyers purchasing detached, new construction houses are looking for high-efficiency windows. The Canadian Appraisal Institute estimates that replacing windows will provide a return on investment between 50% and 75%.
Sound insulation. A window that blocks out cold or heat will also block sound. Replacing your windows will create a quieter, more peaceful indoor environment.
Easier maintenance. Kohltech's window and door hardware is expected to give trouble free operation throughout the life of the product. All of the hardware is protected or enhanced by special coatings and lubricants. To clean, all you need is warm water with a little dish soap and a quick reapplication of lubricant to keep parts moving smoothly.
Make this your last winter with old, drafty windows. Now is the best time of year to buy new windows… The Kohltech Winter Window Event is on now! Get inspired by the most outstanding value of the year on all energy-efficient Koltech windows, entrance systems and patio doors. For the best pricing, order by February 25 for spring delivery.
Contact us today to request a quote
HELPFUL LINKS
Kohltech Windows and Entrance Systems Energy Efficiency Ratings
Kohltech has compiled detailed information on the thermal performance and energy ratings of their products to help you choose the most energy efficient windows and doors.
www.kohltech.com/efficiency/ratings/
Energy Star
Saving energy saves you money and reduces your impact on the environment. The ENERGY STAR® symbol identifies products that have qualified as high efficiency. Learn more about ENERGY STAR® here:
www.nrcan.gc.ca/energy/products/energystar/12519
Kohltech Windows and Entrance Systems Product Information
For more than 35 years, the Kohltech name has been synonymous with the uncompromising craftsmanship and unparalleled performance of the industry's best windows. Visit them online to find inspiration and information to help you choose your new windows.

---